Our History
In 2008, as eyes turned to China before the Beijing Olympics, Tibetans rose up across Tibet. Massive solidarity protests around the globe followed. A new chapter of the Tibetan resistance was born, as Tibetans strategically embraced tactics of self-reliance and noncooperation on a scale never seen before. Tibet Action Institute was formed the following year to support this changing resistance landscape, providing intensive training on lessons of strategic nonviolent action drawn from other successful human rights and democracy movements around the globe, while helping Tibetans inside and outside Tibet capitalize on new information and communication technologies and defend against relentless cyber attacks and surveillance from China.
Our Mission
Tibet Action Institute combines the power of digital communication with strategic nonviolent action to advance the Tibetan freedom movement. We bring together expert campaigners, strategists, and technologists to develop and implement visionary strategies and innovative training, education, and technology programs, equipping Tibetans with the tools and knowledge to achieve human rights and freedom in Tibet.
Our Strategy
By training and educating Tibetans everywhere in the art and methods of nonviolent resistance and safe and effective use of new information and communication technologies, we build a movement that is equipped to successfully wage the strategic civil resistance campaigns that will bring positive change to Tibet.
62nd Tibetan National Uprising Day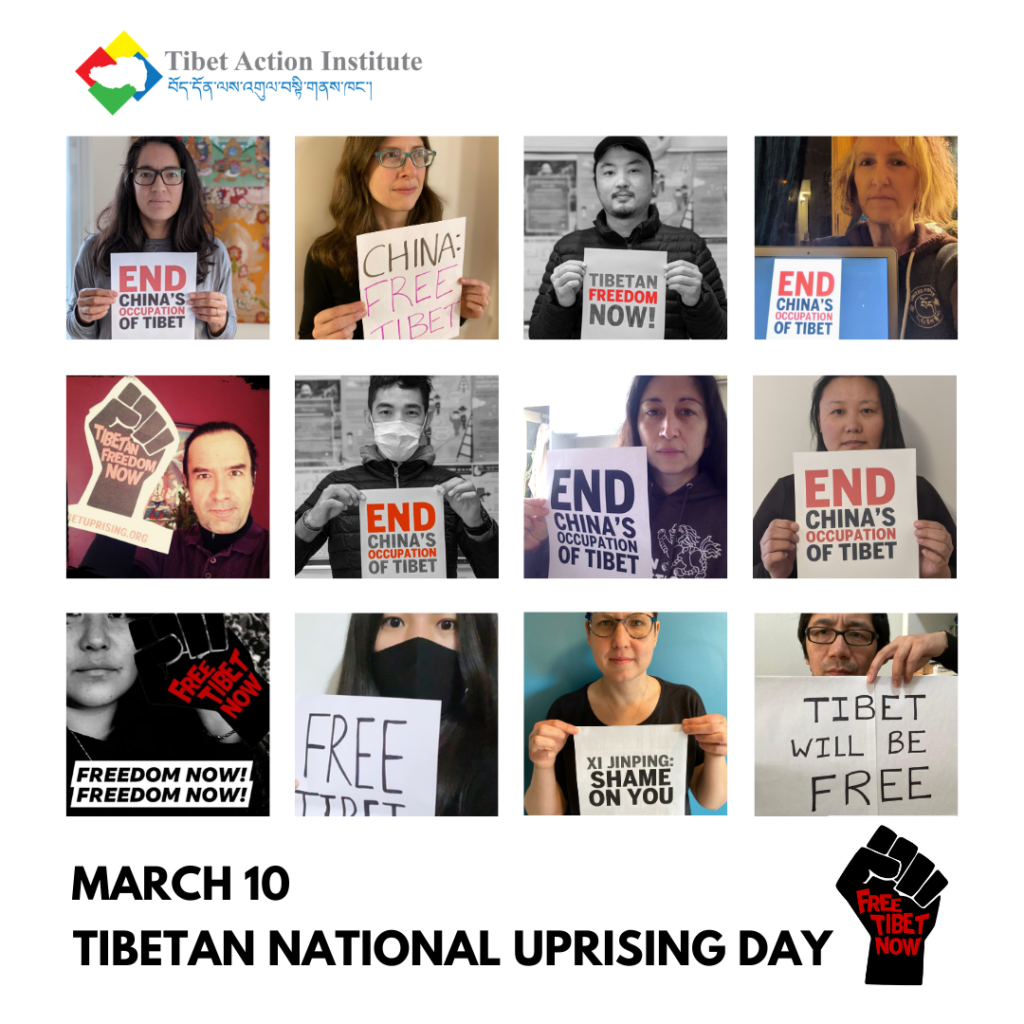 March 10th is the day for Tibetans and supporters everywhere to gather together and honor the courageous people of Tibet who, against all odds, rose up in 1959 against the occupying Chinese forces and demanded their freedom. In doing so, they changed history by helping to secure the life and freedom of His Holiness the Dalai Lama, the continuation of the Tibetan government, and the freedom movement. No matter what China claims about being a welcome and liberating presence in Tibet, that fateful day, and the resistance that followed by Tibetans from all walks of life both in the capital, Lhasa, and across the country, is historical proof that Chinese forces in Tibet were, in fact, an unwelcome foreign occupying force. And, as we can see from the ongoing protests and resistance movements inside Tibet, they continue to be so, to this day. By marking this important occasion, year after year, with rallies and demonstrations where we re-tell the story of March 10th to the world, and most importantly, to our children and grandchildren, together we are keeping the flame of Tibetan freedom burning. No matter how dark or difficult the times may be, we will not give up. And by remembering the past, and taking action in the present, we secure the future. And most importantly, new generations of Tibetans take up the struggle, in Tibet, and in exile, armed with the knowledge that, like their forefathers and mothers before them, their actions keep the resistance going and their contribution makes a difference. This March 10th, 62 years after Tibetans took to the streets in Lhasa to demand China leave Tibet, let the Chinese government, and the world, make no mistake — we will keep going. We will never give up, until Tibet is free.
Long live the Dalai Lama! Tibet is for Tibetans! China out of Tibet, now!