Being online and practicing digital security go hand in hand.
It is important to stay safe and secure online and also to be able to mitigate harm when things go wrong. We have made it easy for you and broken down Digital Security into a 3-step process:
Don't get Phished!
Scammers and adversaries use this tactic to steal your personal or work-related information. Most of the time, they leave a trail. What is Phishing? Phishing is a way scammers or attackers steal your personal information, like passwords or bank login details. Phishing can be targeted, or done on a mass scale, depending on the motive. The scammer, disguised as a reputable organization (like Google or Citibank), sends an email and gets you to enter your personal info into a fake login page. In a targeted attack, the attackers are disguised as individuals or a group you may be affiliated with or would likely trust, for example, a Tibetan organization. Find out when to suspect and how to respond to phishing attacks.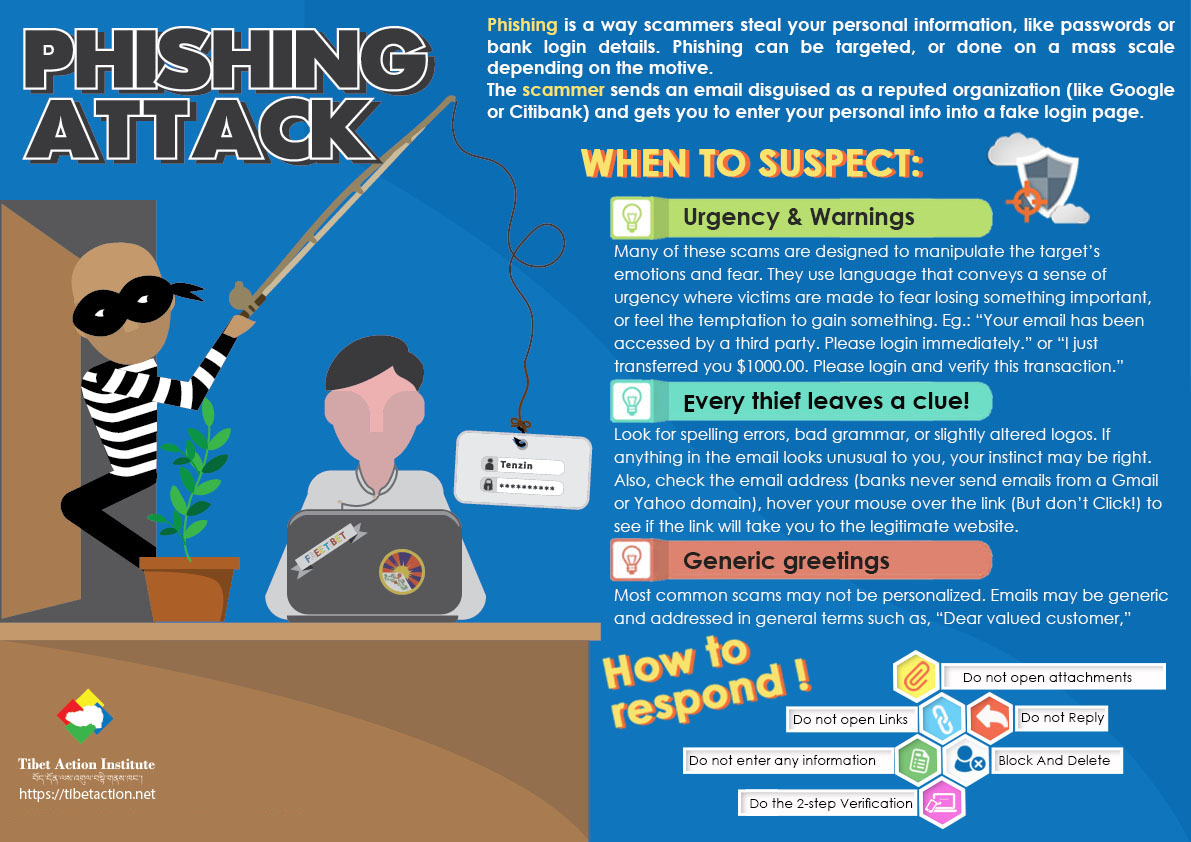 TibCERT
The Tibetan Computer Emergency Readiness Team (TibCERT) is a formal, coalition-based structure that reduces and mitigates online threats in the Tibetan community. By expanding Tibetans' technical research capacity on threats in the diaspora as well as surveillance and censorship inside Tibet, TibCERT ultimately ensures greater online freedom and security for Tibetan society as a whole.
Digital Security Ambassadors
Tibetans in exile are on the frontline of targeted cyber attacks. The Digital Security Ambassador program seeks to provide skilled, local support for defending against these attacks by placing four Tibetans with a background in computer science in four digital security hotspots: Dharamsala, Dehradun, Bylakuppe, and Mundgod. The Ambassadors offer digital security trainings and customized support in their areas for communicators (individuals in frequent contact with Tibetans in Tibet) and institutions. They are part of the Rapid Response network of TibCERT.
Chinese Cyber Security Law
Fake Accounts & Online Harassment
Creating a Culture of Responsibility