Apple is the largest corporation in the world and approximately ⅓ of its consumer base is living under Chinese Communist Party (CCP) rule, including in Tibet, East Turkistan, Southern Mongolia, and Hong Kong.
Apple's Dangerous Double Standard for iOS Users Living Under the CCP
Apple says freedom of expression, access to information, and privacy are fundamental human rights. But Apple's App Store in the Chinese market is different from the App Store in other countries. Apple routinely removes critical privacy, communication, and news apps from China's App Store. App takedowns include the New York Times, Quartz, and more than 1,000 Virtual Private Networks (VPNs), putting iOS users at risk of repression and removing their right to unfettered access to the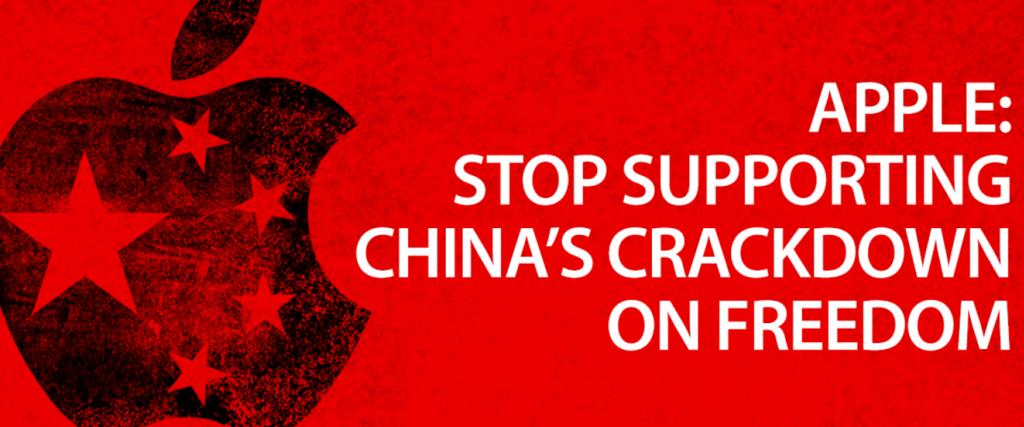 Internet. VPNs, in particular, help people be more anonymous online and have freer access to information. For people living under authoritarian rule – where surveillance and the risk of imprisonment is constant – these apps can be a matter of life and death. 
Because of Apple, iOS users in Tibet are even more at risk of being repressed for what they do or say online. Especially since Apple moved data storage for iOS users in the Chinese market (including in Tibet) onto mainland China, giving easier access to Chinese authorities.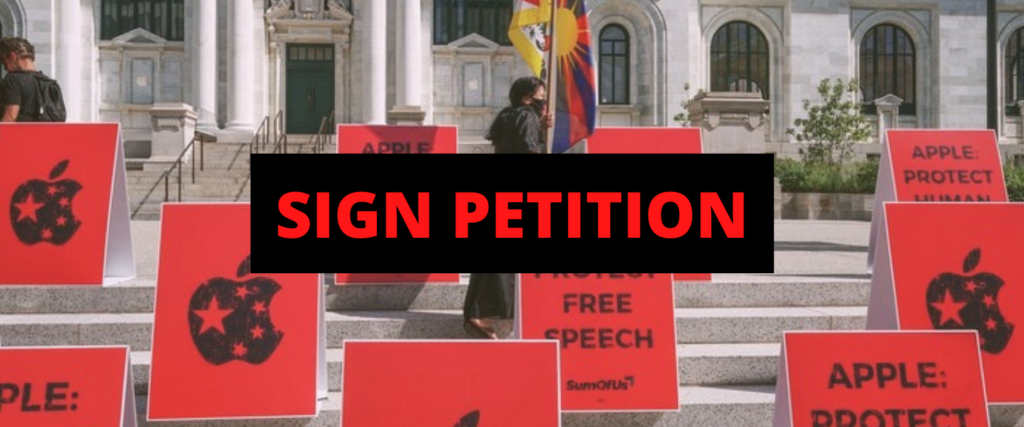 Apple's Collusion with the Chinese Government
Since 2017, Apple has shockingly removed around 55,000 active apps from China's App Store. Sometimes they remove apps because the government of China tells them to and sometimes they do it on their own. Either way, Apple's collusion with Chinese authorities violates human rights standards for businesses laid out by the United Nations (UN), which states that companies must not violate the human rights of people using or making their products.
The Campaign
After an historic victory stopping Google from creating its censored search engine Project Dragonfly, an empowered coalition of Tibetans, Uyghurs, Hongkongers, Tawainese and Chinese rights activists, corporate accountability organizations, and technology groups began an ongoing campaign to hold Apple accountable for helping the CCP in its brutal repression.
As a coalition, we have written letters to Apple execs, made videos, held protests, had more than 135,000 people sign a petition, and submitted a shareholder resolution on freedom of expression and access to information. In February 2021, 40.6% of shareholders agreed that Apple needs to do better and be more transparent on these fundamental human rights. As a direct result of the campaign, Apple published its first-ever Human Rights Policy which included access to information and freedom of expression!
There's More To Be Done
Apple's new Human Rights Policy was a huge victory to be celebrated. However, words on paper do not protect people from the brutal surveillance of the CCP, especially when the policies are not implemented. 
Apple continues to remove life-saving privacy and encrypted communication apps from its China App Store…
So we are keeping the pressure on …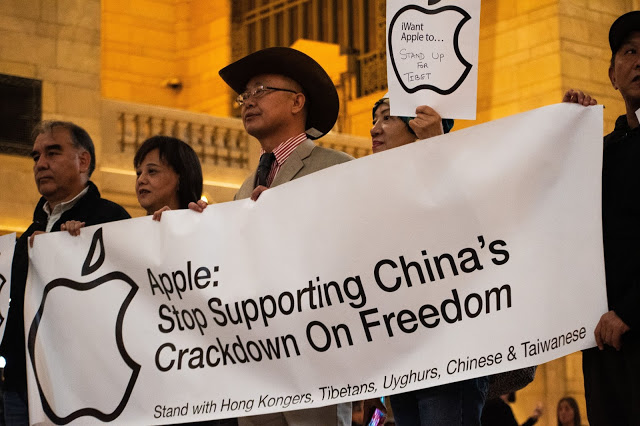 What We Want
Apple's hands are not tied. For example, they can allow iOS users in Tibet, East Turkistan, Southern Mongolia, China, and Hong Kong to access approved and certified VPNs via developers platforms instead of just China's App Store.

Apple is not beholden to the Chinese government. They can and must be more accountable to the communities they operate in by creating a Human Rights Committee of impacted people to help guide them.

Their transparency report is anything but transparent. They need to come up to industry standards and reveal exactly what apps they are removing at the demand of authoritarian governments like China, and why.