In our daily life activity, we tend to use the internet more than anything. Which means it is important to ensure that your internet is safe. To maintain internet safety, there are some basic and minimal best practices which we should adopt in our daily life.
STRONG PASSOWRD
The more complex and lengthier the password, it is more secure and hard to guess or steal.
Learn More
DO THE 2-STEP!
Have you ever feared your Facebook or email account might get hacked? Do you ever worry that you don't have the knowledge to protect yourself online? The good news is …
Learn More
Have you ever got these kinds of messages containing links on your messaging apps on your mobile devices from an unknown person?
"Did you know this funny video of you is posted online?

"

"Click here to read the latest urgent news on the situation inside Tibet"

"An important message from the Dalai Lama"
 It is tempting to click on these links, isn't it?
This is because the messages are designed to take advantage of things we care about. Unfortunately, these links are often malicious and will take you to a website where your computer or phone can get infected with a virus.
 Don't just open attachments or click on links you receive in your email, Facebook, WhatsApp, and other communication apps. Unless you were expecting it, there's a strong chance that the attachment or link contains a virus that will dangerously infect your computer or phone as soon as you open it.
.
If you are someone who thinks "I have nothing to hide. Why should I be afraid?", then think again. Many of these attacks are designed to steal information, and what we fail to recognize as information is the human network we have online or on our devices. The Tibetan community is small and incredibly connected with the majority living under direct threat from China, our responsibility is much higher. Although everyone everywhere should have the responsibility because such negligence could have real-life consequences to someone in their network or their extended network.
Updating your computer software is the easiest way to block online attacks
Everyone has received notices on their computers saying "Software Update Available: Update Now or Remind Me Later". Choosing "Update Now" is a simple and powerful way to stay safer online.
Strong passwords keep you safer. Make them long, complex, unique, and change them often - and never, ever set an account to automatically log in or store your password.
Passwords are key to your life. Whether for your computer, your email account, or your Facebook account, make your password long, complex, and unique.
A strong password must have
letters(lower and upper)

Numbers

Symbols

Be at least 16 characters long

 Should not have names or dates related to you (eg. Tenzin1985 or Rangzen59)
Stay safer – don't Share Drives.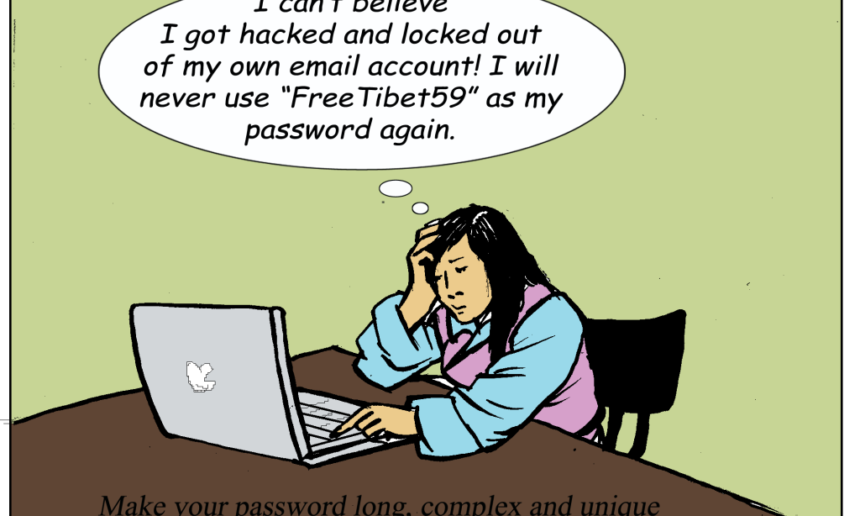 Turn on 2-step verification on your email and Facebook account
Have you ever feared your Facebook or email account account might get hacked?
Do you ever worry that you don't have the knowledge to protect yourself online?
The good news is you can easily protect yourself by turning on your 2[step verification (also called two-factor authentication).
If someone is able to crack your password, 2-step verification will block them from logging in to your accounts. It is an extra layer of protection – a code sent by text or through an app on your phone – that only you can get.