Tibetan netizens express the need for their mother-tongue
In early April, schools in Ngaba, eastern Tibet reopened following the Covid-19 outbreak. However, schools were told the use of Tibetan language in classes would be scrapped as of September, when the next academic year begins.
Human Rights Watch detailed that threat in primary schools in Tibet: the gradual replacement of Tibetan-language instruction with the "national" language.
Tibetan netizens, despite rigid police surveillance and the prospect of reprisals, took to social media to express disbelief and anger. Below are a few we found online.
The above image:  is a poster issued by China in primary schools in Tibet. Translation: "Love the national flag, Sing the national anthem, Mandarin is the working language in schools. Please speak the common language (Mandarin) and write the characters correctly". Source: Dondrup Dorje's blog 2016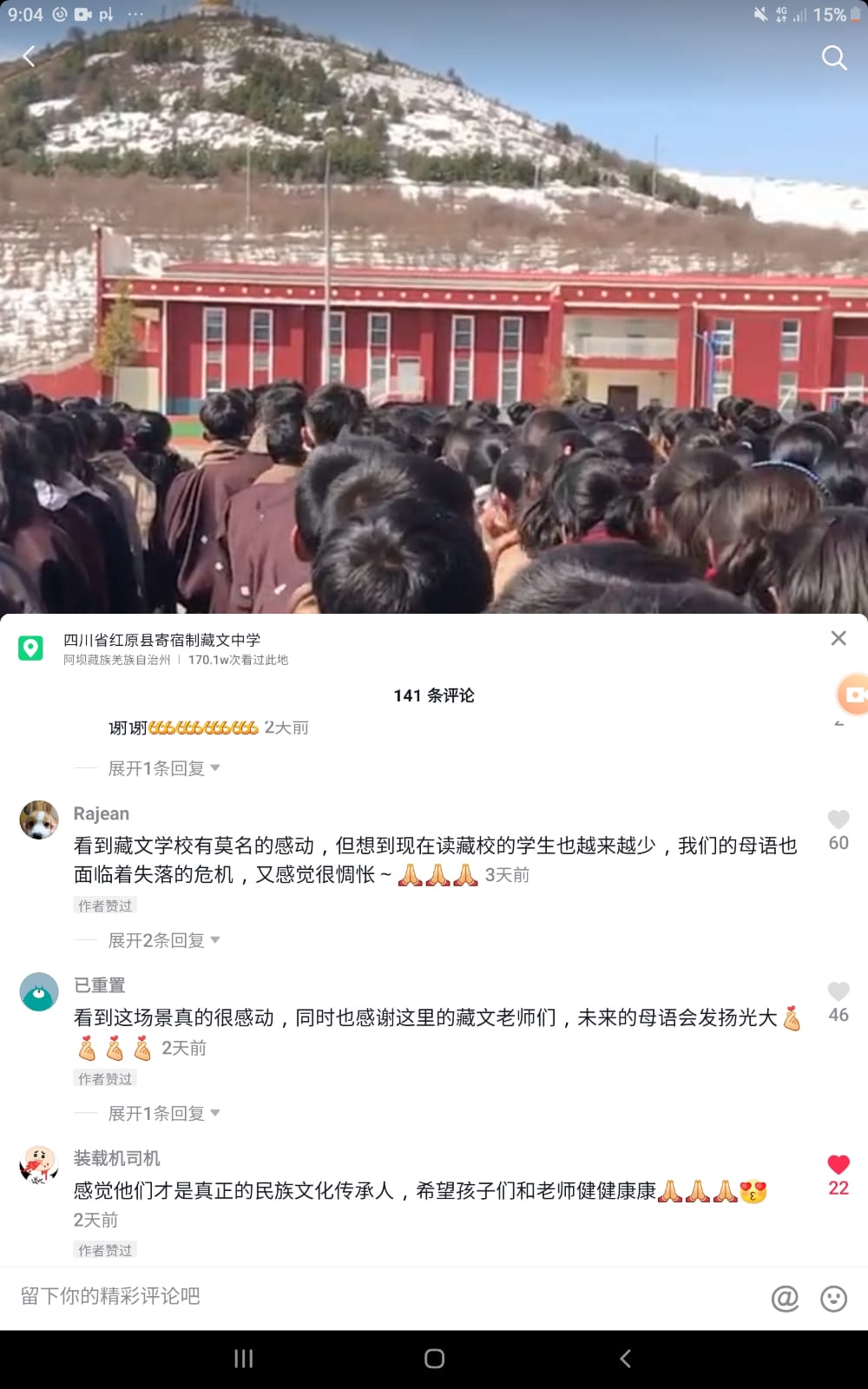 Heartbeat player: Mothertongue is the lifeline of a nation, but in the future, it will be difficult for them to compete with other people who learned Chinese,  slowly they would have to suffer in the society
Rajean:i was inexplicably moved to see the Tibetan school.  But thinking about the situation of less and less number of students studying at the Tibetan school and of our mother tongue facing the existential threat makes me feel very melancholy ~ [Thank you] [Thank] [Thank you ]
1135802933: I was so touched to see the Tibetan descendants wearing their national costumes! [Thanks] I was inspired by this scene at first sight! Good luck to Chongchu, NgabaTibetan Middle School! I also wish Chongchu Tibetan Middle School a better tomorrow. [Thanks] [Thanks] [Thanks] [Thanks] [Thanks]
Has been reset: I am really touched to see this scene, but I also want to thank the Tibetan teachers there, the mother tongue will be carried forward and promoted.
Dolma: The flowers of the nation and the future's hope.
USER5637426912938: We no longer have Tibetan language school.
Time: Mother tongue is the lifeline of a nation. If there is a mother tongue, the nation will exist. If there is no mother tongue, then the nation will die.
好多个点: Even if you don't get a job in the future, you can't afford not to learn the mother tongue. Let's give some likes to Chongchu Tibetan school.
Choedup: Tibetan people come on, stand up!
USER 3778084994139: The hope of the nation. I am proud of you! 
I like: There is a real taste of having Tibetan schools! Keep fighting!